The Tina Anselmi Primary School in Marcon, north of Venice, designed by Studio AI Progetti, takes inspiration from northern European architecture. It features an titanium-zinc zintek® envelope from the «The Color Line» series, combining excellent technical specifications with extraordinary versatility in the potential aesthetic results.

The school comprises two adjacent buildings surrounded by sports fields, with classrooms for 660 pupils, a canteen, communal spaces, and a gym that is level B2 certified by the Italian National Olympic Committee. The façades are clad in sheets of titanium-zinc zintek® with angular seaming, with alternating vertical and transversal joints. Combined with the pairing of Rock Grey with Lagoon Green in the classrooms and Mediterranean Blue in the gym, this gives the buildings' surfaces a vibrant and dynamic appearance.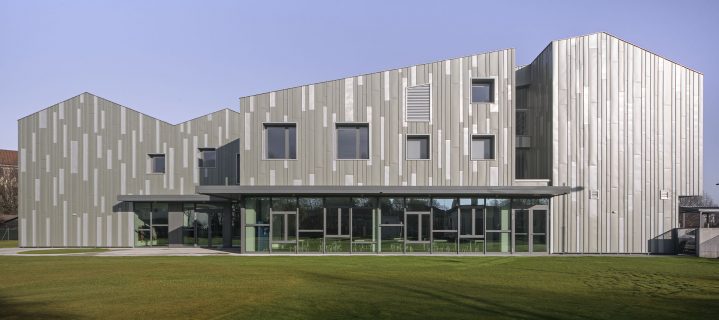 The choice of titanium-zinc zintek® for the cladding was an investment in efficiency: the building will last a very long time with zero maintenance. Moreover, zintek® is produced locally in the Venice area where the school is based, by a company with certified environmental, quality, and safety management processes.
Zintek has created a monograph, available free of charge on our website, dedicated to the Tina Anselmi Primary School, featuring photographs by alessandra chemollo and providing all the details about the project. We hope it acts as a blueprint for the future of school architecture in Italy, and the creation of safe and sustainable facilities that can be adapted to to each city's specific geography, layout, and economic situation.